HAPPY DIWALI!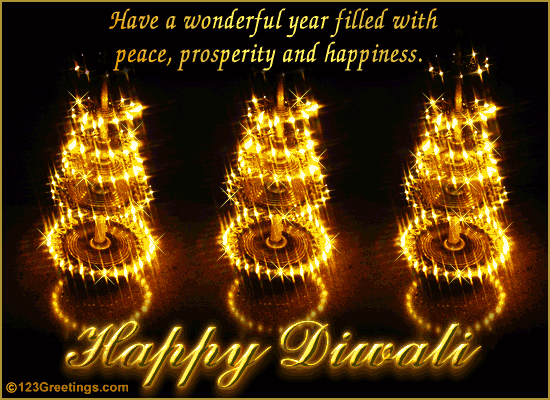 Arnav reached Laxmi Nagar before Khushi returned home from her office.
"Kaun he, Nandkisore?" Madhumati Gupta asked as she abandoned the newspaper she was reading, removed her glasses, set them aside and waddled to the door.
She unlatched the door and pulled the panels apart to see Arnav standing there, a nervous look on his face.
"Arnav bitwaa!" Buaji could not control her joy in seeing her favourite male. She barged out of the door and caught hold of his arm. "Come in, come in, Nandkisore! Why are you standing outside like a stranger?"
Arnav felt his heart sink to his shoes at his reception. This was the lady he had maligned, the family he had insulted.
"Buaji, I am the goonda," he confessed.
"I know, Nandkisore," Buaji said. "Come in."
"I am so sorry, Buaji," he murmured, his heart filled with regret.
Buaji pulled him by the arm and pushed him down on a chair. "Tum baitto, Nandkisore," she said. "What are you apologising for?"
"Haan, that you did," Buaji concurred. Then she asked, "Bitwaa, don't you have eyes in your head?"
Buaji pursed her lips. "How could you look at that Pagaliyya and think that she was out to lure and trap Shyamji? Does she look as though she knows how to lure and captivate men?"
Arnav flushed. He shook his head in the negative. Khushi's innocence shone through her eyes. He had been blinded by his prejudice and his attraction to her to see the truth.
"If you give her a man and ask her to charm him, she will most likely tie a rakhi around his wrist, Nandkisore!" Buaji grimaced.
Arnav lowered his head in shame. "I am more sorry than I can say, Buaji," he said.
"Koi baat nahi, Nandkisore. You will be well-served for your bad judgement if Khushi decides to marry you," Buaji chuckled in anticipation.
Arnav frowned in confusion.
"You will have to live with Sanka Devi all your life. That is punishment enough," Buaji teased him.
"Payaliyya always used to say that only a Pagal will marry my Titliyya. So you are that Pagal, aren't you, bitwaa?" Buaji asked.
"If she agrees," Arnav said shyly.
"What about your family? Did you tell them, bitwaa?" Buai asked.
"Yes, Buaji. They are waiting for Khushi's response. They will visit you with a formal request as soon as she agrees," Arnav reassured Buaji.
"Tab to theek he, Nandkisore," she said. Then she heaved a long sigh. "It is a pity her parents are not alive today. How happy they would have been to meet you!"
"How old was Khushi when they died, Buaji?" Arnav asked.
"Ten. I raised Payaliyya and Khussi, sheltering them in my wings like a chicken with two chicks. How could you think Madhumati Gupta would raise a loose girl?" Buaji raised her brows in question.
"I am sorry, Buaji," Arnav felt miserable.
"Don't you deserve to be punished for your bad judgement?" Buaji asked.
Arnav nodded. "Khushi said that you are ready with your belan," he admitted.
Buaji smiled. "Yes, my belan is ready, Nandkisore, but that's not your punishment. It is something worse."
"Marry Titliyya fast and take her off my hands," Buaji gave away her niece. "Then I will look for a good boy for Payaliyya and marry her off. Once I am free, I will go to an ashram in Lucknow and live there in peace with my Nandkisore."
"Buaji, don't go," Arnav found himself stopping her as though both marriages were fixed and she were packing to leave that very moment.
Buaji smiled and pinched his chin. "So, did Titliyya agree to marry you?" she asked.
"She wants 2 months," he explained.
"For what, Nandkisore?" Buaji frowned.
Buaji chuckled. "Marriages are made in heaven and then fought out on earth. What is the use of knowing your enemy for 2 months?"
Arnav smiled. "To fight better?" he asked.
Buaji slapped him playfully on his thigh as she dissolved in to giggles.
Arnav's eyes watered at the sting of her loving pat.
Khushi walked home on quick feet. Had Balma Singh Raizada reached Laxmi Nagar? Had Buaji flattened him with her rolling pin?
She dipped her hand in her bag and brought out her phone to check the time. Her feet moved faster till she was almost running. Bechara Singh Raizada, Khushi thought. What a risk he was taking just to give her the prem patra!
She turned her head in the direction of the summons.
Kamla Chachi. Why couldn't Kamla Chachi run after her son, Pappu who was giving love letters to all and sundry? Khushi thought. Why did she have to pick on one Khushi Kumari Gupta living near her house, a poor girl who was going to get her first love letter in a few minutes?
Khushi quickly waved and continued walking.
"Khussi, why are you running?" Kamla shouted after her.
"Woh..woh..I am hungry, very hungry," Khushi answered as she ran in to her house, past the pots of plants he had gifted.
Buaji and Carefree Singh Raizada were guffawing away merrily.
Khushi's mouth fell open.
Buaji lifted her head and saw Khushi.
"Lo, aa gayi tumhri Titliyyaa," Buaji informed Arnav. She frowned at Khushi. "Why are you panting? Did some pagal kutta chase you?"
"Kuch nahi, Buaji," Khushi muttered. She looked at the smirk on Hotshot Singh Raizada's face with livid eyes. He was sitting here smiling while she had been worrying about the condition of his pichwada?
"I will get you tea, Nandkisore," Buaji got up.
"Will you have pakore, bitwaa?" Buaji asked him lovingly.
"Ji, Buaji," he said smiling.
Buaji turned to look at Khushi. "Sanka Devi, your paremi has come to your house so that you can know him better. Sit with him and ask him all the questions you want answers to. Phir mat kehna that you didn't know him, Nandkisore!" She left for the kitchen.
Khushi threw her cloth bag on the table and sat down on a chair across from him.
"Buaji didn't use the belan on you?" she asked with heart-felt regret. Cheeky Singh Raizada could use a couple of blows.
"No," Arnav smirked. "How can Buaji hurt her favourite bitwaa?"
"Don't put on airs," Khushi warned. "Don't fly away in to the clouds. Keep your feet on the ground. You are the only bitwaa she knows other than Shyamji."
"Is my prem patra ready?" Khushi asked.
"Err...yes," he swallowed hard.
Khushi held out her hand for the letter.
Buaji placed a cup of tea in her hand.
"Drink it, Titliyya. You must be tired driving Shyamji and Sharmaji crazy all day," Buaji smiled as she placed the tray on the table. She stuffed Arnav with tea and pakore.
Arnav silently thanked Buaji from the bottom of his heart for saving him from having to expose his meagre poetic skills that very moment.
Long moments later, Buaji said, "Bitwaa, I have to go to the market to buy pooja essentials, lights, flowers and a few other things for Diwali. Payaliyya will join me there. Will you stay with Khussi for thirty minutes? We will be back soon, Nandkisore."
"I will take good care of her, Buaji," Arnav promised.
"I can take better care of myself, Buaji," Khushi muttered. Why was Buaji giving the key to her house to Chor Singh Raizada, the very thief who was hankering to get in?
"Jeeyath raho, babua," Buaji nodded at Arnav in unspoken understanding. Both of them were equally determined to keep Khushi's reputation untarnished and whiter than snow.
Buaji picked up a bag and walked out of the house, giving Khushi many last minute instructions about the dal in the cooker and the dry clothes on the clothesline.
Khushi folded her hands before her Buaji. "Madhumati Gupta, no body is going to steal your dal. The clothes are not going to fly away in the few minutes you will be away from the house. Even I can't destroy this house in thirty minutes. Aap nishchinth hoke shopping keejiye," she teased.
"This Parmeswari!" Buaji pulled Khushi's ear and left.
Khushi stood up to shut the door after her.
"No, Khushi," Arnav said. "Leave the door open."
She frowned at him. "Why?"
"Buaji is not at home. It is not right that we remain alone with the door closed," Arnav said even though he would have loved to spend some alone time with Khushi without the spying eyes of the residents of Laxmi Nagar.
"Acha? Then shall I invite all our neighbours here? They can all read your letter," Khushi smirked at Fastidious Singh Raizada.
"Khushi," he murmured as he pulled out an envelope from his coat pocket.
Her eyes brightened and she left the door to run to sit by him.
He looked at the excitement on her face with a sinking feeling in his heart. He should have taken a course in Creative Writing while at Harvard. Why had he wasted his time learning business?
He placed the cover in her hand reluctantly.
She looked at him, the letter held firmly in her hand.
"Let me read it out to you," he said quickly.
Khushi nodded happily and handed over the paper to him without looking at it. She would get to keep it anyway.
Arnav looked down at the paper and then at her bright eyes, shining in expectation of her first prem patra. If only he were more qualified, more equipped to meet her demands for romance!
"Padiye, padiye," she encouraged him, leaning forward in her chair.
Arnav cleared his throat and perused the paper.
He looked up. Then he said, "My dear Khushi,"
"I..I have never written a prem patra before..." he read.
"I haven't received one before. So that's alright," Khushi responded, all smiles.
"Khushi, the first moment I met you, I knew my life was going to change," he read and looked up at her expectantly.
She smiled her support to him.
"From being black and white, it went to colour," he admitted.
Khushi giggled, thrilled at her own powers.
"From being silent, it became filled with sounds," he confessed.
"Like the sky on Diwali night," Khushi chirped.
He smiled slightly, feeling his nervousness abate. He looked down at the paper.
I never knew love till I met you.
Never knew sleepless nights,
Never knew the spring of hope in my heart,
Never felt flowers bloom,
His eyes were directly on her face.
Never felt the wind against my face,
Never longed for a simple touch,
Never felt the romance of the rain,
Never knew I could smile...
I never knew love till I met you, Khushi.
She sat still, caught in the magic web of his heart-felt words whispered in his husky voice. Her eyes filled with tears.
The next thing he knew, Khushi had thrown her arms around him and was hugging him with all her might.
"Khushi..." he managed to speak. "You liked it?"
She brought her lips to his cheek and gave him a resounding kiss, loving the feel of his stubble against her eager lips.
"Arnavji," she whispered.
"Khushi," he breathed against her ear, his arms tight around her, holding her warm, soft body pressed against his.
They heard voices approaching the open door.
"Khushi is alone at home and she has left the door open?" Payal fretted.
"Arnav babua is here with Titliyaa," Buaji informed Payal.
Arnav released Khushi and she quickly grabbed her letter and pushed it down the neck of her suit. She then moved to sit on her chair. Arnav too took his seat.
Buaji and Payal entered the house.
Hours later, Khushi locked herself in her room and dipped her hand in the suit to retrieve her prem patra.
It was in a sad shape, all crumpled and creased.
She smoothed the paper to read it, a smile on her lips.
Kavi Singh Raizada's letter had only five lines.
Khushi, I have never written a prem patra before.
Khushi, I want to marry you.
Khushi, I want to spend my whole life with you.
Khushi, I cannot think of a life without you.