HAPPY ONAM!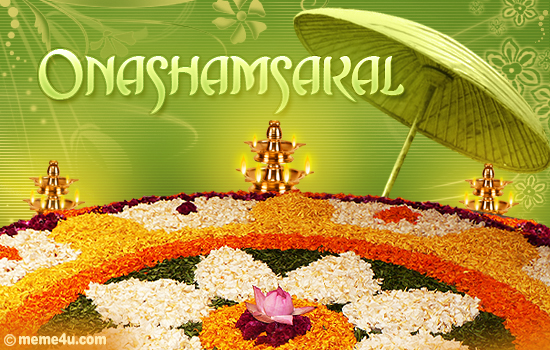 Part 3 will be posted here today.
I know. Sabr ka phal meetha hota he!
Khushi looked around with pleasure. All the dishes were done and arranged around her in big vessels. A mountain of laddoos grinned at her from a huge thali. Another small silver dish had sugar-free laddoos.
"Finish your prayers, Khushi," Payal said, her eyes on the clock. "It is time."
Munna, Krishna and Payal moved to stand near the door.
Khushi took a special silver plate from her bag and served all the dishes on it. Then she placed it at the feet of Devi Maiyya's idol, near the ghee lamp.
Khushi folded her hands and closed her eyes.
She prayed, 'Hey Devi Maiyya, here's the first taste of what we have cooked today. Chak leejiye and tell me how they have turned out.'
She waited for a few seconds.
Then she said, 'They are good, aren't they? I knew you would like them.' She added in a whisper. 'Anjaliji didn't want me to make samosas. I insisted. Aapko acha lagta he na? Isliye. I know how much you love them. Anjaliji doesn't know anything about food or about you.' Khushi frowned. 'There is something wrong with her. See how her brother has turned out! Lurking around the kitchen to steal our bijjnijj secrets!' She frowned more ferociously. 'The house seems big and Anjaliji can't even walk straight, carrying around her big diamond necklace with stones as large as laddoos. Aap ko pata he, she limps in an effort to carry it. Sachi. They seem rich. Then why is he trying to steal my secret? Why does he want to steal from our thali?' Her eyes widened. 'Hey Devi Maiyya, I am so stupid. This is how he made his money! By stealing secrets from people like me. Khushi, be careful. He will try to get the secret out of you. Don't give in, be strong. You are an Indian nari, the descendant of Rani Laxmi bai of Jhansi. Remember that!'
"Khushi, it is time," Payal reminded her.
"Yes, Jiji," Khushi replied. She turned to Devi Maiyya. 'I forgot to ask you for the most important boon we want. Devi Maiyya, stay with us as always. Keep your hand over our heads, give us sharan. May our food be healthy and tasty, may the diners chak their fingers and ask for more. Remember that we use only desi ghee, Devi Maiyya. May our bijjniss grow in leaps and bounds. May Jiji be known as Kheer Kumari of Lucknow and me as Jalebi Rani of Lucknow. That is our binti, Devi Maiyya. Please grant us our wish. And haan, please take care of Munna and Krishna. Let there be no accidents while we cook. Keep them healthy and happy. Chalti hoon. I have to take the laddooos to the big idol they have kept in their pooja room and set the dishes.'
"Ho gaya, Khushi?" Payal asked.
"Yes, Jiji. One moment. Let me do the last tadka," Khushi said.
She quickly walked to stand before the dishes laid out for her. She blew a flying kiss at the dishes and then with her hands, quickly warded evil eyes from her cooking and pressed the knuckles above her ears.
"Take them, Munna, Krishna," Khushi gave permission.
The boys carried the heavy vessels into the dining hall and placed them on the tables set for them.
Payal and Khushi carried the thali of laddoos and placed them before Devi Maiyya's idol. They returned to the kitchen and Khushi picked up the small silver dish of sugar-free laddoos.
She frowned. "Jiji, who eats sugar-free laddoos here?" she asked.
"Anjaliji's brother, I think," Payal said absently, looking at the messages on her phone. "She or Naniji mentioned that he is diabetic. Khushi, keep the laddoos before Devi Maiyya and come fast. Happyji has sent a message. He is here with our van. We have to clean the vessels before loading them onto the vehicle." She moved to the sink to start on the soiled pots and pans.
Khushi looked at the laddoos, tempted beyond her control. What if she sprinkled chilly powder on the laddoos? It would teach that arrogant, This-is-my-house Raizada a much-needed lesson. How dare he look at her dishes? How dare he try to steal from her?
Khushi looked at Devi Maiyya. She had a gentle smile on her face and her eyes were kind.
Khushi sighed. 'You never let me do naughty things,' she complained. 'Aap hi kahiye, doesn't he deserve chilly powder on his laddoos?'
She waited for Devi Maiyya to answer.
'Not even a little?' she asked, disappointed. 'One pinch? Please? Don't break my heart.'
'Ok, if you say so. How can I fight with you? If you say no, then no it is,' she gave in. She paused for a moment and then said, 'You are right. He may be a thief but he is diabetic. He has to eat healthy. And I am a cook, entrusted with the responsibility of filling empty stomachs with nutritious, hot food. I shouldn't play with food, shouldn't cause harm to another with my food. My calling is greater than such petty thoughts.' She closed her eyes, feeling a halo circle her saintly head as a result of such high thinking and generosity of spirit. 'I am above such cheap harkats,' she claimed.
She carried the dish to the poja room and placed it by the thali at Devi Maiyya's feet.
Then she returned to the kitchen and began to work with Payal, Munna and Krishna to clean up.
Finally they were ready to leave.
"Jiji, did Anjaliji give you the cheque for the remaining amount?" Khushi asked.
"No, Khushi. She said she will bring it when we are done," Payal replied. "Munna, Krishna, call Happyji for help and load the van."
Khushi went to take her chef's cap from the peg she had hung it from and found that it was missing. The chilly mala hung there in solitary splendour.
She stared at the peg for a full minute, blinked and then stared some more. Then she called, "Jiji?"
"I am not dreaming, am I?" she asked slowly. "That peg doesn't have my cap, does it?"
Payal gave a cursory glance at the peg. "No, it doesn't," she replied.
"Jiji, I hung it there," Khushi insisted.
"Must have fallen down," Payal muttered, looking for Anjali's number in her phone.
"No, it is not on the floor," Khushi said, her voice strained.
"Maybe it fell in the nimona," Payal said with a smile.
Khushi grimaced. "No, the dishes were placed away from this corner," she said.
"Anjaliji, we are ready to leave. Kindly send the cheque with someone," Payal spoke into the phone.
Khushi looked at the peg. 'He must have taken it. Who else would steal my cap? Chor kahin ka! I should have emptied a whole bottle of chilly powder on the laddoos meant for him,' she thought.
Payal listened quietly to Anjali's reply and then said, "Fine." She cut the call and spoke to Khushi.
"Go up the steps to Arnav Singh Raizada's room. He has signed the cheque and is waiting to give it to you. He wants to discuss a contract with you. They want us to do the catering for all their poojas," Payal told her.
Khushi clenched her fists. Her cap! Her beloved cap! She would show him. She turned her head to look at Devi Maiyya and begged her forgiveness. 'I know you expect better of me, but I can't take this. My cap. How dare he! My khoon is boiling. I will kill him with my bare hands today. Devi Maiyya, bless me. Make me as strong as a pehelwan, as muscular as Bittu pehelwan in the akhada near our house. I am going for a battle with a thief to claim what is rightfully mine.'
Khushi marched up the steps to the top floor. She stood undecided for a moment. There were too many doors.
Then she saw an elderly man exiting a room, shutting the door carefully after himself.
"Is he inside?" Khushi asked, foaming at the mouth.
"Ji?" Hari Prakash stood with his hands folded at the sight of the angry Devi without her white cap.
"Is Arnav Singh Raizada in this room?' Khushi asked, impatient to get her hands on his cheating body, especially his neck.
Khushi walked past him at the speed of light. HP blinked.
She knocked on the door, struggling to keep herself from banging on it.
"Come in," came his husky call.
She pushed open the door with both hands and burst into his room to see him sitting on a pale green recliner before a laptop.
Her white cap was lying on the table by his laptop.
Khushi's anger grew in leaps and bounds till she saw red.
He lifted his head to study her at his leisure.
"Yes?" he asked as if he had no idea who she was.
Khushi ground her teeth till she was in danger of becoming toothless.
"You!" she bit out. "You chor, thief, crook, pickpocket, burglar, poacher Singh Raizada!"
He lay back, crossing his hands under his head. His amused eyes scanned her from top to bottom. How good it felt to be the sole recipient of all her anger, he thought.
"Return my cap to me, you bandit," she demanded.
"Come and take it," he invited, his eyes dancing at her fury. Her vocabulary was excellent, he mused.
Khushi marched up to his table and bent to take her cap.
His hard fingers latched onto the satin soft skin of her arm.
"Now how will you escape me, Khushi Kumari Gupta, Lucknow's chef?" Arnav asked softly, his eyes on the creamy skin revealed by the gaping neck of her suit.